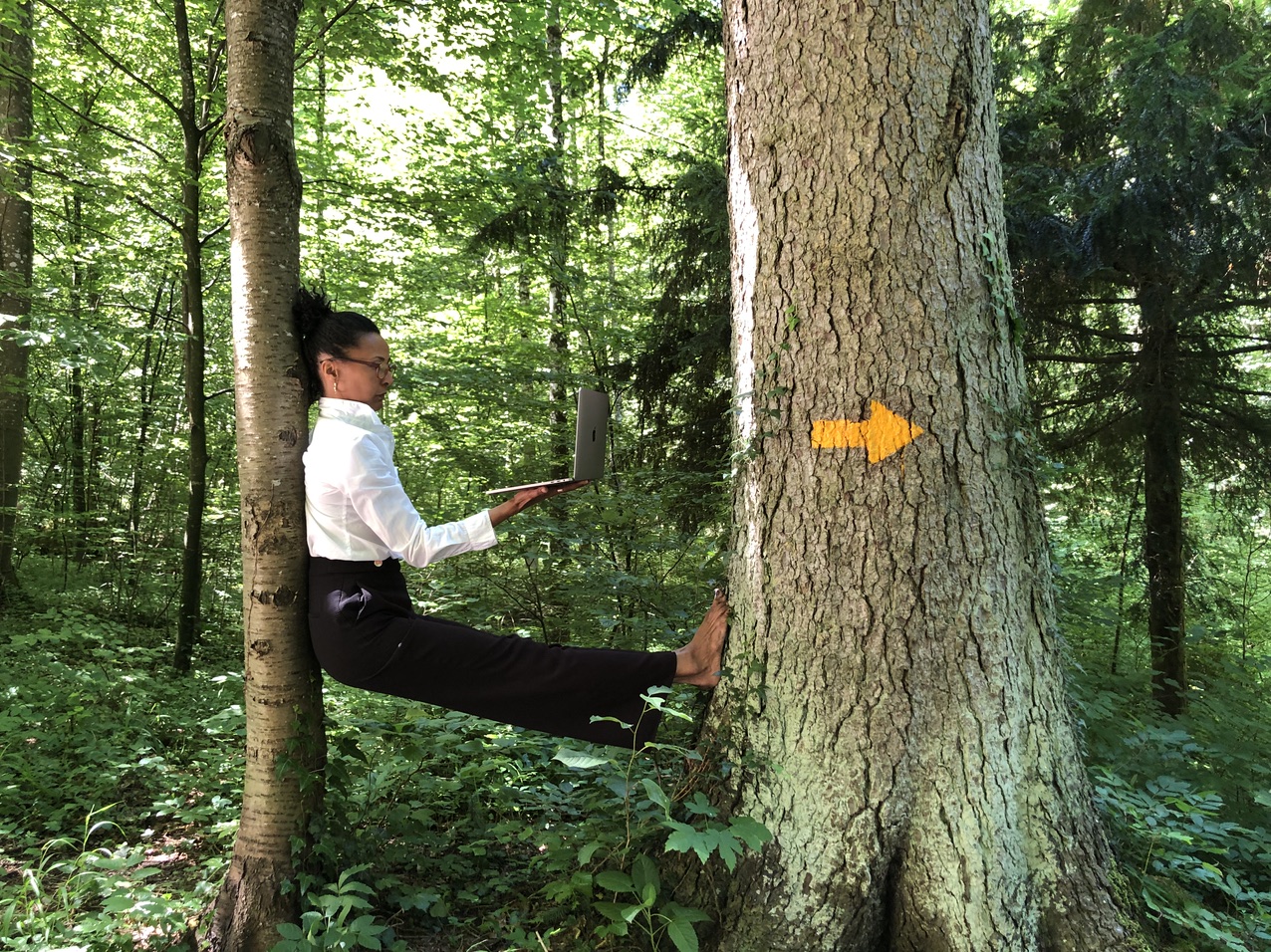 Company Course with Olive Ssembuze
Stress Management and Mental Exhaustion
This course covers hot topics in the fast-paced corporate world: Together we'll discuss what stress and mental exhaustion is and dissect the circumstances that can lead to it. Let's discover how we can use stress in a positive and healthy way.
The participants will learn various tools, which help them connect body and mind and ultimately coping with stress and mental exhaustion. We will do breathing techniques (Pranayama), chair yoga, Yoga postures (Asana) and many more practical exercises.
The course consists of three modules as described below. There will be assignments including some homework after each module. No background knowledge or any kind of skills are required from the participants. The course can take place in the localities of the company at any evening after work or during working time. We recommend to schedule this course on fridays to close the week and may end, with drinks, snacks and good music.
Takeaways
How to be more aware of circumstances that can lead to enhanced stress levels and mental exhaustion

How to use stress in a positive and healthy way

How to focus on the targets ahead

How to live prosperous, well, happy and content

How to find orientation in a fast-paced world
Target group
Swiss and international organizations of all sizes, who care about the well-being of their employees and are interested in creating an appealing and healthy environment for their teams/employees

Teams who are open to try out and want to learn together
Group size
Min. 10 participants

Max. 40 participants
Rooms and props
At Yogalives studio (tram stop Saalsporthalle) or a conference or meeting room at business property

Chairs

All other props will be provided by Yogalives
Costs
Please contact us for the prize list.
Module I: Introduction course – 2 hours
1. Introduction
- What the course is about
- Key takeaways
- Expectations of the participants
2. Questions
- What are the biggest challenges for employees in today's working environment?
- What components cause stress and exhaustion?
3. Practical Exercises
- Chair Yoga
- Assignment: Create a short stretch and release exercise for short breaks
- Breath work: Reducing the breath, quality of breath in relation to nervous System
- Awareness exercise/meditation
4. Closing
- Closing discussion
- Introduction of Module II
- Homework assignment
Module II: Wellbeing – 2.5 hours
1. Review and intro
- Takeaways from Module I
- Review Homework
2. Ayurveda Basics
- Test doshas, diet and exercise options related to dosha
- Fluids, water, tea, ginger, food diet.
3. Pracitcal Expercises
- Asana relating to the doshas, season, age and body
- Breath work, mental training and awareness exercises; including how to focus on targets
4. Closing
- Closing discussion
- Introduction of Module III
- Homework assignment
Module III: Keep it going – 2.5 hours
1. Review and Intro
- Review homework
- Discussion about how things changed or didn't with these modules
- What new patterns were hard to establish? What was easy?
2. Practical Exercises
- Asana (60 Min.)
- Breath/Awareness exercise/meditation
3. Questions
- How to use the new tools in your everyday life?
- How to create the life you want to live?
4. Closing
- Closing discussion
- Course feedback: wishes and likes

About Olive Ssembuze


Olive has taught Yoga for over 15 years and her own yoga practice has grown over the past 23 years. She's the founder of Yogalives and director of their teacher trainings 200& 300 hours.
Born and raised in Berne, Switzerland, Olive moved to New York City to pursue her dream of becoming a professional dancer at the age of 19. In America she worked for various contemporary dance companies and performed with Tina Turner, Ricky Martin, the MTV Music Awards, Lena Horne tribute and many more. During her time as a professional dancer, Olive discovered Yoga and fell in love with the practice.
Olive successfully completed the 200 hours YogaWorks teacher training with Annie Carpenter in 2006 and her +300 hours Teacher Training in 2012. Olive taught Vinyasa yoga at different studios in Zurich, such as Airyoga, Planetyoga, Holmes Place and Arena 225 between 2004 and 2008 before she opened her own studio in 2008: "Yogalives – enjoy the flow".
Interested? Write us!